The First Comics Ghostbusters was a line of four comic books released by First Comics. Two comics were later translated and reprinted by Bastei Verlag.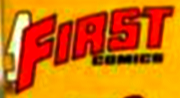 List of Comics
Edit
Rumored Additional Comics
Edit
It has been rumored that there could been a 5 and 6 comic too. However, neither have surfaced therefore they most likely were not released.